Cold Blood:
The Antarctic Murders Trilogy
Now available in ONE volume.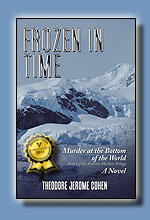 Book I,
Frozen in Time: Murder at the Bottom of the World
, introduces American scientists Ted Stone and Grant Morris, who, while performing geological and geophysical field work in the Chilean Antarctic with the assistance of Captain Roberto Muñoz of the Chilean auxiliary tug Lientur, are caught up in the hunt for the spoils from a robbery of the Banco Central de Chile and the murders that followed.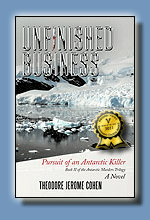 Unfinished Business: Pursuit of an Antarctic Killer
, Book II, introduces Captain Mateo Valderas and Lieutenant-Commander Antonio Del Río of the Chilean Navy's Office of Internal Affairs. Initially assigned to solve a murder in Arica, Chile, they soon find themselves facing the most vicious, cunning thief and murderer they have ever encountered.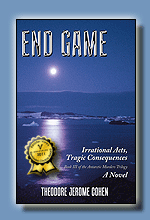 End Game: Irrational Acts, Tragic Consequences
, is Book III. It brings to an end the saga of Captain Muñoz, the search for the spoils from the bank robbery, and the hunt for the killer. Now, for the first time, the three books are available in one volume:
Cold Blood . . . the Antarctic Murders Trilogy
.
Praise for Cold Blood: The Antarctic Murders Trilogy
"A spellbinding thriller of subterfuge, murder, deception, and betrayal."
~ Lee Ashford for Readers' Favorite
"A nasty little piece of skullduggery made all the more so by the fact this fictional tale is based on real events in the author's life."
~ Kirkus Discoveries (Frozen in Time)
"[M]urder and mayhem blended with a dash of chilling drama!"
~ Deb Fowler, Feathered Quill Book Reviews (Frozen in Time)
"Theodore Jerome Cohen . . . is a master at creating an aura of mystery, suspense, and drama. Cohen's writing style is engaging, innovative, and focused, clearly designed for the post-modern reader."
~ Richard R. Blake for Reader Views (Unfinished Business)
"Where Cohen fully succeeds is in drawing the complexity of Muñoz's character. ... With Muñoz so fully drawn, it will be a pleasure to learn his fate."
~ Kirkus Discoveries (Unfinished Business)
"Cutting-edge drama and suspense, revealing characters through convincing dialog, provides the Antarctic Murders Trilogy with all the elements of a cutting-edge, award-winning, best-selling novel."
~ Richard R. Blake for Readers Views (End Game)
"As 'Birds of a feather flock together,' [the Antarctic Murders Trilogy] by Theodore Jerome Cohen should be packaged in a jacket and sold as a set because I certainly believe anyone hooked by the first chapter in the first novel will not be able to put this series down until all three books are finished."
~ Gary Sorkin for Pacific Book Review &nbsp(The Antarctic Murders Trilogy)
The Antarctic Trilogy


Is Recommended Reading by Longitude® (www.longitudebooks.com)