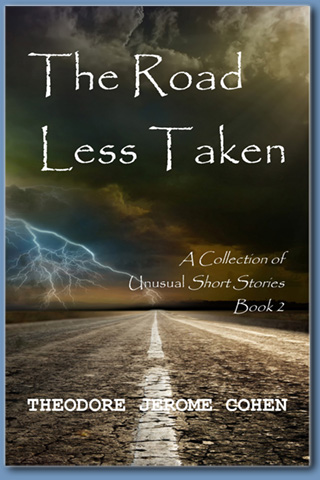 Now Available:

Available in the Following Formats
E-book ASIN: B01MSO1LND
Paperback ISBN: 9781533183910
View an Excerpt

The Road Less Taken - Book 2
Theodore Jerome Cohenís first collection of unusual short stories met with such an unqualified success that he was persuaded to prepare a second set of equally enjoyable stories about the adventure we call ďlife.Ē This book continues his penchant for writing tales that mix truth and fiction in ways even the authorís friends and family find difficult to untangle . . . tales about people with whom heís worked or simply known, people who, for one reason or another, struck him as having a story to tell and from whom he learned

FIVE STARS
something that has stayed with him through the years. Itís their stories he wants to share with you in this book. Here youíll find unusual stories about a violinist and his wife who escaped the death camp at Treblinka, about a man who, because of his impatience, interrupted a meeting involving President Roosevelt, Prime Minister Churchill, and General de Gaulle, and about a friend with a passion for beautiful women and fast cars who dared to live on the edgeóstories vividly brought to life in this, the second collection of unusual short stories by Theodore Jerome Cohen.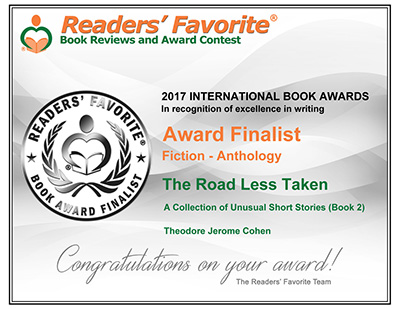 Praise for Theodore Jerome Cohenís Writing Style:
"A signature style that weaves fact with fiction."
~ Mark Mitchell, former editorial page writer for the Wall Street Journal
"Prolific!"
~ Gary Sorkin for Pacific Book Review
"A unique, creative imagination."
~ Richard Blake for Readers Views
"Evokes a deep connection with the characters."
~ Faridah Nassozi for Readersí Favorite
"Smart, mature characters."
~ Krista Schnee for Hollywood Book Review
"An amazing collection of short stories that will capture the imagination and heart of the reader. Each story has a personality all its own."
~ Elizabeth Carr for PennyMindingMom