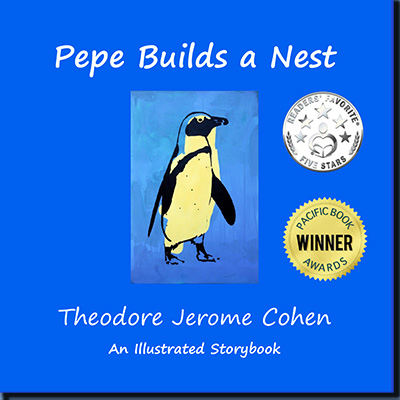 A wonderful story about making the right choices
and dealing with bullies!
Pepe, the penguin, needs to build a nest for
Miss Amber and himself. But Otto, the bully, keeps stealing his stones. See how Pepe and
others solve the problem, finally
bringing Pepe and Otto together
as friends.
First Place

Pacific Book Review's

2017 Annual Book Awards:

"Best Children's Illustrated"

5 STARS
Praise for Pepe Builds a Nest
5 STARS: "Theodore Jerome Cohen's colorful picture book story, Pepe Builds a Nest, deals with complex issues that all young children must face: bullying and making choices. An informative way of teaching valuable life lessons."
~ Emily-Jane Hills Orford for Readers' Favorite
Pacific Book Review Star: "Move over, Happy Feet, there's a new bird in town!"
~ Gary Sorkin for Pacific Book Review
"A delightful story that tackles an important topic - bullying - in a gentle way that children will understand, while also educating readers on the life of penguins in Antarctica."
~ Feathered Quill Book Reviews
"This book's verse and illustrations will delight primary grade children, early readers, and young-at-heart adults."
~ Linda S. Finkle, K-8 Elementary Educator
"This is a delightful story both teachers and parents can use for role-playing exercises with children."
~ Maryann Fedorko, K-8 Reading Specialist
5 STARS: "Lyrical and rhythmic, Pepe Builds a Nest by Theodore Jerome Cohen is a priceless gem that young readers will devour with awesome delight. I read it with my six-year-old son and he was thrilled."
~ Divine Zape for Readers' Favorite
"The story reinforces the idea that it's important to stand up for ourselves and others when we feel bullied."
~ Elizabeth Carr for PennyMindingMom
Parents and Teachers: Use these Websites to Download Pictures of Penguins for Your Children to Color