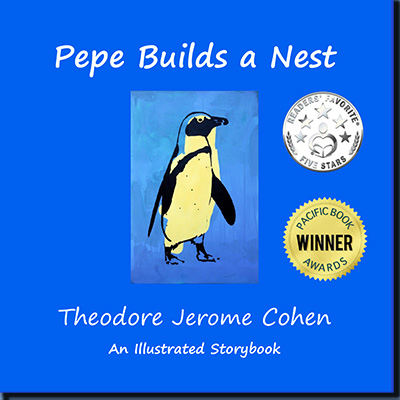 A wonderful story about making the right choices
and dealing with bullies!
Pepe, the penguin, needs to build a nest for
Miss Amber and himself. But Otto, the bully, keeps stealing his stones. See how Pepe and
others solve the problem, finally
bringing Pepe and Otto together
as friends.



Star Review - 2017
Pacific Book Review
Awarded for
Excellent Merit
First Place
Pacific Book Review's
2017 Annual Book Awards:
"Best Children's Illustrated"
5 STARS
Praise for Pepe Builds a Nest
5 STARS: "Theodore Jerome Cohen's colorful picture book story, Pepe Builds a Nest, deals with complex issues that all young children must face: bullying and making choices. An informative way of teaching valuable life lessons."
~ Emily-Jane Hills Orford for Readers' Favorite
Pacific Book Review Star: "Move over, Happy Feet, there's a new bird in town!"
~ Gary Sorkin for Pacific Book Review
"A delightful story that tackles an important topic - bullying - in a gentle way that children will understand, while also educating readers on the life of penguins in Antarctica."
~ Feathered Quill Book Reviews
"This book's verse and illustrations will delight primary grade children, early readers, and young-at-heart adults."
~ Linda S. Finkle, K-8 Elementary Educator
"This is a delightful story both teachers and parents can use for role-playing exercises with children."
~ Maryann Fedorko, K-8 Reading Specialist
5 STARS: "Lyrical and rhythmic, Pepe Builds a Nest by Theodore Jerome Cohen is a priceless gem that young readers will devour with awesome delight. I read it with my six-year-old son and he was thrilled."
~ Divine Zape for Readers' Favorite
"The story reinforces the idea that it's important to stand up for ourselves and others when we feel bullied."
~ Elizabeth Carr for PennyMindingMom
Featured Review
"Pepe Builds a Nest by Theodore Jerome Cohen is a wonderful book to share with young children that deals with the issue of bullying. A conflict between two penguins leads to learning important values and life lessons including honesty, hard work, persistence, standing up for yourself and others, friendship, and forgiveness. Written in rhyme, it makes for a fun read aloud and a perfect opportunity to practice rhyming skills."
~ Julie Yeros for Globe Trottin' Kids

Globe Trottin' Kids
provides quality products and resources to engage kids in
learning about world geography and cultures
understanding and appreciating diversity in our world
becoming responsible global citizens
Teachers, parents, homeschoolers: for an activity guide on how
to talk to your children about bullying using
Pepe Builds a Nest, click here
Featured Review
"While the topic is penguins, this story is about a bully. It is told in rhyme and easy for Pre-K and primary children to follow and understand. Penguins are a favorite topic, and the photograph illustrations are so interesting to them. This story would be nice for a class discussion for the topic of bullies. Fun and educational reading!"
~ Carolyn Wilhelm for The Wise Owl Factory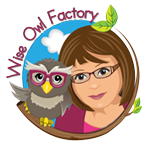 Teachers, parents, homeschoolers: read this
review
.
Then, watch your children enjoy these penguin
writing and coloring
activities
keyed to
Pepe Builds a Nest.
Featured Review
"After reading this book, you can talk with your children about fairness, helpfulness, cooperation, and how to use these character sets rather than those of bullying, stealing, laziness, and greed. You will be richer in life when you are true to yourself and help others, and find yourself in cold water when you treat others with disrespect. Make a friend and be the good influence. (Click the logo to read the review and watch a video.)"
~ Crystal McClean for Castle View Academy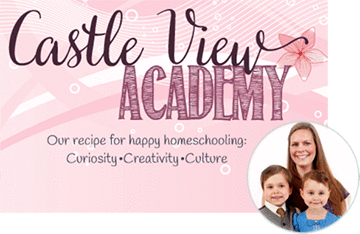 Featured Review
"What always amazes me is when authors can rhyme their way through an entire book. It's hard enough to write an engaging children's story, but then to also have it rhyme is even more challenging. Cohen's tale has a 2/4 rhyming scheme that makes the story perfect for a read-aloud. The illustrations are realistic penguins and not cartoonish. I think kids will love this story and parents too. The lesson in the story offers parents an opportunity to discuss with their child how to handle a bully or someone who isn't treating them very nicely."
~ Stacie Gorkow for Sincerely Stacie

Parents and Teachers: Use these Websites to Download Pictures of Penguins for Your Children to Color