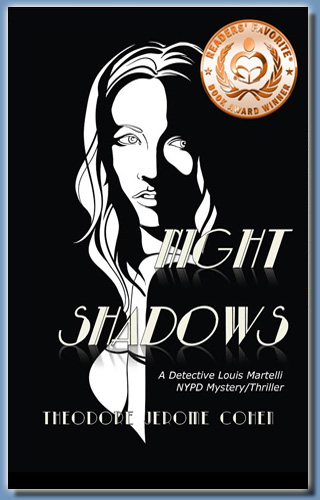 Available in the Following Formats
E-book: ISBN 9780984920938
Paperback ISBN: 9780984920983
View an Excerpt

Night Shadows
When a wealthy Wall Street commodity futures trader is found dead in his townhouse of an apparent drug overdose, Deputy Coroner Michael Antonetti, NYPD, is suspicious. Antonetti tells Detective Louis Martelli
Winner!!
Fiction/Mystery/General: Bronze

Winner!!
Thriller Genre
2015 Pacific Book Review Annual Competition
he suspects what appears to be a suicide may in fact be murder. After a similar case is discovered involving a former friend of the Wall Street trader who played on the same high school football team almost twenty years earlier, Martelli is convinced he is dealing with someone bent on revenge. But the two teammates who ostensibly committed suicide were part of an elite three-man squad known as The Flying Horsemen. This convinces Martelli there will be a third victim. But who might it be, and could the killings have anything to do with the rape and suicide of some of the men's former high school classmates? The answers will be found in this mystery/thriller that will keep you on the edge of your seat until the very end.
(Adult language)
Night Shadows received five 5-Star Readers' Favorite reviews. You can read them here
Praise for Night Shadows
"The case in Night Shadows develops with structural underpinnings and plot machinations so advanced even the most savvy of mystery readers will 'raise an eyebrow' to the skill used by Cohen."
~ Gary Sorkin for Pacific Book Review
"In Night Shadows, Cohen skillfully combines a unique creative imagination with a keen sense of investigative reporting, knowledge of police procedures, and an intuitive understanding of human nature…to draw the reader into the story."
~ Richard Blake for Reader Views
"I cannot remember a time in the past decade when I picked up a mystery/thriller and was so surprised."
~ Russell D. James for Hollywood Book Review
"As a lawyer, it's always been disconcerting how Cohen sets himself up as judge, jury, and executioner, but I know his readers absolutely relish the idea."
~ Kerry Donahue, Esq.
"This novel, ripped from the headlines, should serve as a wakeup call to what increasingly appears to be an epidemic of child abuse, teenage rape, and teen suicide."
~ Susan Violante, Author of Innocent War: Behind An Immigrant's Past
ItalianAustinite.com, Susan's Talk Radio blog
"Night Shadows by Theodore Jerome Cohen is a well-plotted novel that readers who enjoy graphic police procedural thrillers will devour."
~ Judge, 2nd Annual Writer's Digest Self-Published eBook Awards, 2014