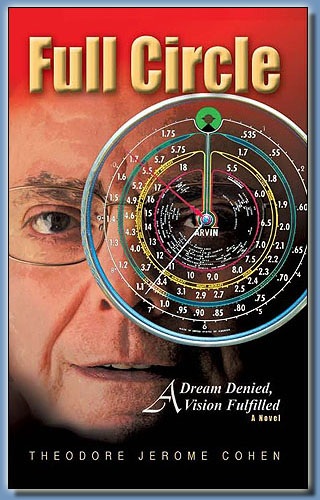 Available in the Following Formats
E-book: ISBN 9781449029159
Tradeback: ISBN 9781449029142
View an Excerpt

Full Circle:
A Dream Denied, A Vision Fulfilled
Scientist Theodore J. (Teddy) Cohen never expected to return to the violin when he abandoned the instrument after his high school graduation in 1956 and began pursuing a career in engineering and science. A gifted violin student in grade and high school, he was the concertmaster of his high school's orchestra and in 1956, the last time he played the violin for many years to come, was named co-first-chair of the Milwaukee All-City Senior Orchestra.
For the next 40 years, Cohen worked in the defense industry, serving as an engineer, scientist, and officer in several Washington, D.C.-based corporations before moving to Pennsylvania. There, he once again took up the violin, ironically fulfilling his father's vision that he become a violinist.
"I think it always was my father's dream that someday I would become a violinist. We never discussed it, but then, sometimes, the most difficult conflicts are the ones we keep to ourselves," said Cohen. "I think my father's words and deeds pretty much pointed to the fact that he had a dream . . . a dream that someday I would play professionally." But it was not to be, and eventually, his father came to understand and to endure the heartbreak of knowing that the dream would never be realized.
Full Circle
is a work of fiction based on real events in author Theodore Jerome Cohen's life. It takes the reader from his early days as a violin student, through his discovery of communications in general (the ham radio in particular), to his return to the violin.
It's a story of inspiration, rediscovery and dreams.
Praise for Full Circle
"Age is no barrier to setting goals."
~ Elizabeth Fisher, Bucks County Courier Times
"I wished wholeheartedly that it had been an autobiography! ... It is a very enjoyable read."
~ Elaine Richards, G4LFM, Radio Society of Great Britain (RSGB)
"Full Circle is an informative and accessible story that will be particularly enjoyed by musicians, electronic buffs and those who delight in family stories."
~ Joy Ward, The Langhorne Ledger
"I particularly enjoyed Full Circle because I identify to such a great extent with the author . . . [in music and career.]"
~ Edward Belanger, Dials and Channels, Journal of the Radio and Television Museum
"Full Circle is an inspirational read anyone, including young adults interested in amateur radio and/or music, will enjoy."
~ Dave Ingram, K4TWJ (SK), World of Ideas, CQ Magazine