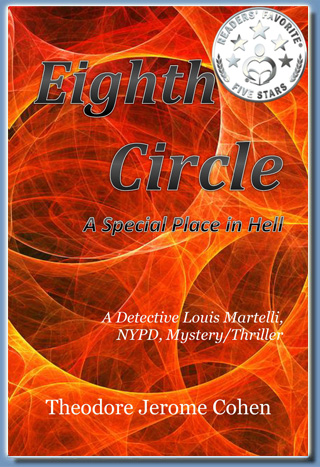 Available in the Following Formats
E-book ISBN: 9780984920945
Paperback ISBN: 9780984920976
View an Excerpt

Eighth Circle:

A Special Place in Hell
When the mayor of New York City's grandson and the grandson's wife are murdered execution-style in their Tribeca apartment, NYPD Detective Louis Martelli and his partner, Detective Sean O'Keeffe, are left completely in the dark. Months go by without any actionable leads until a meeting with the wife's doctor and the bizarre torching of Stephanie Martelli's car turn the investigation upside down and land Martelli and O'Keeffe in the hotseat. When an old friend of Pietro Martelli's, Louis's deceased father and a former street cop who had been gunned down in the line of duty, sends Martelli a note asking for a meeting, things take an even stranger turn. The evidence in this mob-driven case of political corruption, bribery, and murder pits the two detectives against their boss, Captain Hanlon, NYPD Commissioner of Police Eugene Fields, and His Honor the Mayor. Can Martelli and O'Keeffe survive this kind of pressure and keep their jobs, much less solve the case? You'll have to read
Eighth Circle
to learn the answers.
Praise for Eighth Circle
"This masterful blend of fact with fiction makes for a very entertaining story, with just enough truth to it to make the reader feel as if he is witnessing history in the making."
~ Lee Ashford for Readers' Favorite
"With remarkable events in his books paralleling the reality of real life situations in the news and current events, Theodore Cohen brings his stories to life under the belief that true events make for the best fiction."
~ Gary Sorkin for Pacific Book Review
"

Eighth Circle

reads like an investigative reporting exposé: action-packed, filled with drama, suspense, technology, psychopaths, corruption, and murder."
~ Richard Blake for Reader Views
"A deliciously murderous romp through Little Italy and the Hudson River waterfront, but it's not all fun and games. There are some very 'bad' good guys out there the mob didn't count on."
~ Mike Krauss is a director of the Public Banking Institute and is the author of the forthcoming novel Pursuits of Happiness
"If

Eighth Circle

looks like it was taken from the case files of the New York Police Department—and it does—it's because Cohen is a real-life sleuth! It was he who helped me with research for my true story exposing a network of criminals, some with ties to organized crime, who were destroying pharmaceutical companies developing promising treatments for cancer. Based on real-world events, Cohen's Martelli novels are great fun to read . . . and much less depressing than reality!"
~ Mark Mitchell has been an editorial page writer for the Wall Street Journal and is the author of The Dendreon Effect: How Felons, Con-men and Wall Street Insiders Manipulate High-tech Stocks