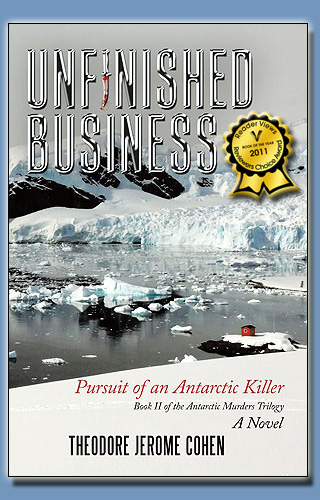 Available in the Following Formats
E-book: ISBN 9781452061795
Tradeback: ISBN 9781452061771
Hardcover: ISBN 9781452061788
View an Excerpt

Unfinished Business:
Pursuit of an Antarctic Killer
Book II in the Antarctic Murders Trilogy
Unfinished Business
picks up the story begun in Book I with the return of the crate containing Señora Rodriguez' refrigerator from Antarctica to Arica aboard Corvette Captain Roberto Muñoz' ship, the
Lientur
. What makes Señora Rodriguez' refrigerator so special is that, unbeknownst to her, it holds the spoils from a major bank robbery in Talcahuano, Chile, which occurred in the aftermath of the Great Chilean Earthquake of May 22, 1960. But in addition to Señora Rodríguez' husband, the two men who committed the robbery, Chief Warrant Officer Raul Lucero and Chief Petty Officer Eduardo Bellolio, and the officer who was trailing them, Lieutenant Barbudo, are dead.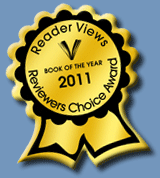 Winner!!
Mystery/Thriller/Suspense/Horror: Honorable Mention
Now, the two Navy non-commissioned officers from Santiago who secretly played a part in tipping off Lucero and Bellolio to the fact that Commander Barbudo was closing in on them have travelled to Arica to obtain the release of the refrigerator from the Fleet Warehouse. It is their intent to steal the loot before they deliver the appliance to Señora Rodríguez. In the process, something goes terribly wrong.
Unfinished Business
, like
Frozen in Time
, is a work of fiction based on real events that took place between 1960 and 1965. It is a tale of greed, betrayal, danger and murder-one in which the reader is given a window into the frozen world at the bottom of the Earth that few people will ever read about, much less experience. It explores why, though seemingly unfair, bad things happen to good people; how the battle between good and evil can change forever even the most innocent person; and most of all, the role deception plays in Nature, Man, and Life.
Praise for Unfinished Business
"Where Cohen fully succeeds is in drawing the complexity of Muñoz' character ... With Muñoz so fully drawn, it will be a pleasure to learn his fate."
~ Kirkus Discoveries
"Theodore Jerome Cohen ... is a master at creating an aura of mystery, suspense, and drama. Cohen's writing style is engaging, innovative, and focused, clearly designed for the post-modern reader."
~ Richard R. Blake for Reader Views
"It was Christmas in August as the FedEx package arrived with the 2nd book of the Antarctic Murders Trilogy ... [A] most enjoyable way to experience the Antarctic without having to put on a down parka."
~ Gary Sorkin of Pacific Book Review
"The more I read of

Unfinished Business: Pursuit of an Antarctic Killer

, Book II of the Antarctic Murders Trilogy, the more I just had to know about what happened to the stolen loot that catapulted me into the Book I's fascinating story. Now I'm just hoping that Cohen does NOT make me wait too long for what no doubt awaits readers in Book III!"
~ Peter Hunn for Popular Communications Magazine, a publication of CQ Communications, Inc.
Unfinished Business: Pursuit of an Antarctic Murderer


Is Recommended Reading by Longitude® (www.longitudebooks.com)